Professor Chris Elliott
Institute for Global Food Security, Queen's University, Belfast
Md Saidul Islam
Associate Professor of Sociology
Coordinator, Environment & Sustainability Research Cluster,
School of Social Sciences and Asian School of the Environment
NanyangTechnological University, Singapore
Dr. Vittorio Fattori
Food Systems and Food Safety Division, FAO, Rome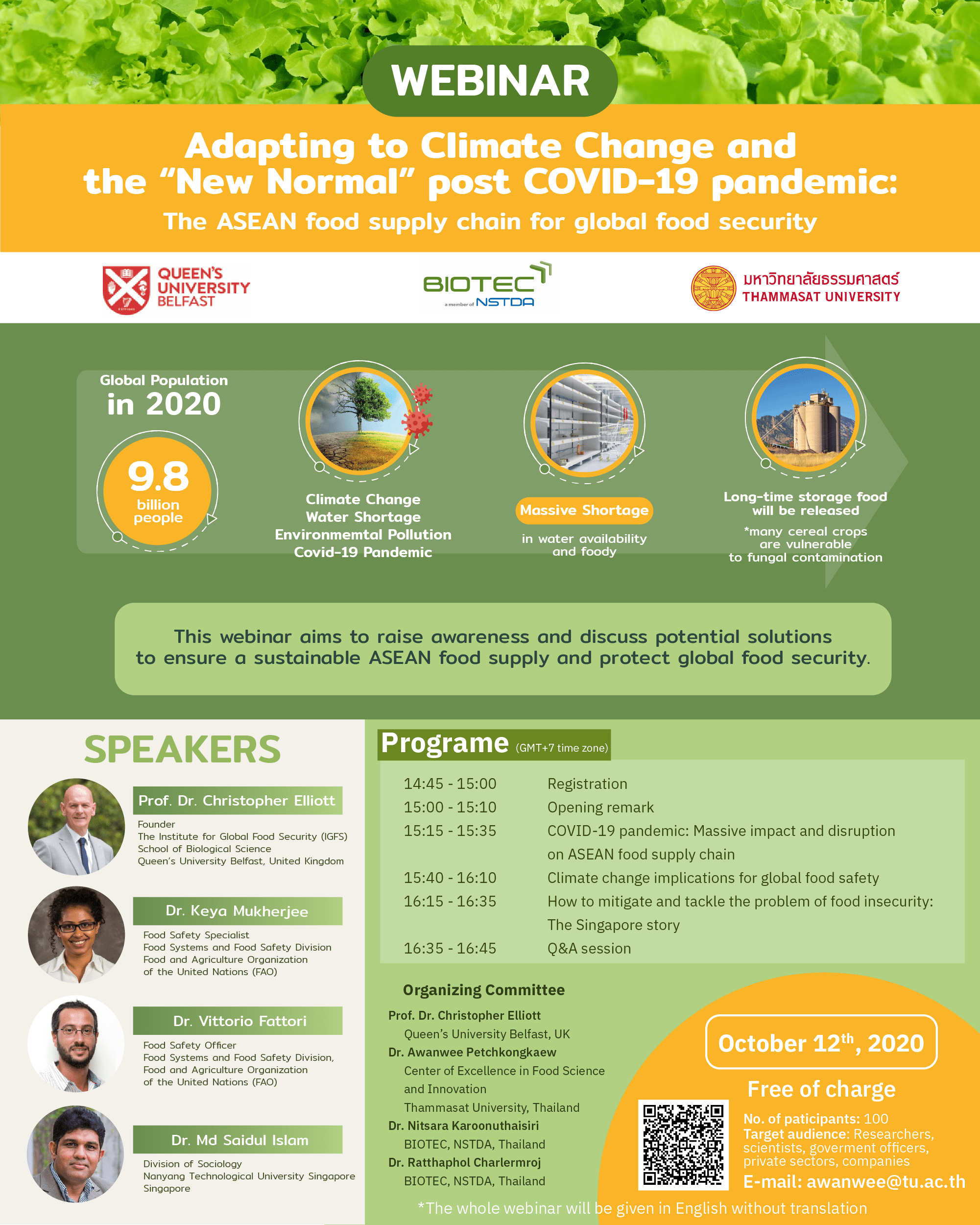 WEBINAR
Adapting to Climate Change and the "New Normal" post COVID–19 pandemic:
the ASEAN food supply chain for global food security
Date: October 12th, 2020
Organized by
The Institute for Global Food Security (IGFS), Queen's University Belfast, United Kingdom
Center of Excellence in Food Science and Innovation, Thammasat University (TU), Thailand
National Center for Genetic Engineering and Biotechnology (BIOTEC)
National Science and Technology Development Agency (NSTDA)
Rationale and background
The United Nation Population Division (2017) projects a global population of 9.8 billion people by 2050. With the impacts of climate change, water shortages and environmental pollution, the size of the challenge is extraordinary in terms of feeding this number of people. Assuming that this scenario is inevitable, there will be a rapid depletion of resources leading to massive shortages in water availability and foody.
Apart from climate change, the impact of the global coronavirus COVID-19 pandemic cannot be underestimated. There has been and will continue to be massive disruptions to the global food supply system. Some commodities that have been in storage for long periods of time will be released into international markets due to shortages. This will certainly be true of many cereal crops which are highly vulnerable to fungal contamination. It is also known that a lot of the testing and inspections of food commodities have been reduced and, in many cases, suspended. Thus, the potential for crops highly contaminated with toxic substances to enter into national and international food system has never been greater. The effects of the global coronavirus pandemic are not short term and will last for a number of years at the very least.
This webinar aims to raise awareness of these urgent issues and discuss potential solutions to ensure a sustainable ASEAN food supply and protect global food security.
Organizing Committee
Prof. Dr. Christopher Elliott Queen's University Belfast, UK
Dr. Nitsara Karoonuthaisiri BIOTEC, NSTDA
Dr. Ratthaphol CharlermrojBIOTEC, NSTDA
Dr. Awanwee PetchkongkaewThammasat University, Thailand
Estimated No. of participants: 100 (including local and ASEAN participants)
Target audience: Researcher, scientist, government officer, private sector, company
Language:The whole webinar will be given in English without translation
Registration fee: Free of charge
For further information, please contact: Webinar Secretariat
Dr. Awanwee Petchkongkaew
Center of Excellence in Food Science and Innovation
School of Food Science and Technology
Faculty of Science and Technology
Thammasat University (Rangsit campus)
Khlong Luang, Pathum Thani 12120 Thailand
E-mail: awanwee@tu.ac.th