Work Achievement Highlights
Research and development are a key mission of the Faculty of Science and Technology for the benefit of university level education, for which research have been published widely to improve education. Over the past 10 years, the faculty has been supporting the 4.0 policy of the government and the university aims to produce research that can provide greater contributions to national development. In addition to researching new knowledge in the fundamental sciences, we also focus on integrating scientific and technological knowledge to solve problems for communities and society (SCI + LIFE) an on researching and developing innovations that can increase commercial value (SCI + BUSINESS) through collaborations with public and industrial sector organizations. 
FUNDAMENTAL SCIENCE
SCI + LIFE
SCI + BUSINESS
Science Research Forum
Faculty Research Forum
Golden             

Bananas Forum

Geriatric Research Forum

Energy  Research Forum

Cannabis Research Forum

Data Science Forum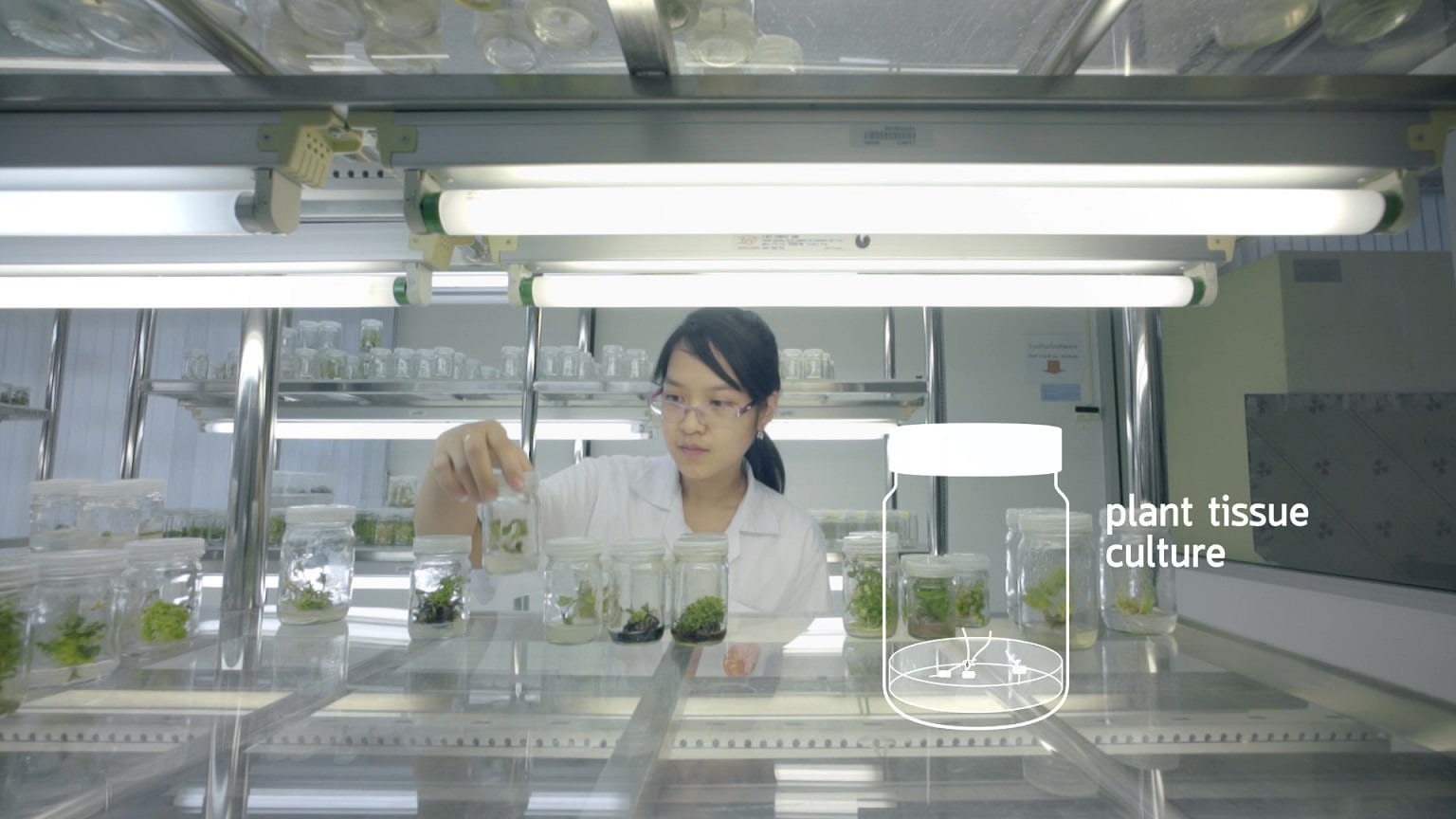 FOOD TECH: Food Innovations and Technology 
Our goal is to create new dimensions in the Thai food industry for greater prominence in the global market while meeting the university's policies and creating graduates who become entrepreneurship-minded scientists in three food tech areas that indicate increases in the value of waste products from the food industry and upgrade the agricultural products of Thailand for international and national recognition. Our effort led the teaching staff and students of food science and technology of the Faculty of Science and Technology of Thammasat University to receive three food tech awards from two national and international level competitions.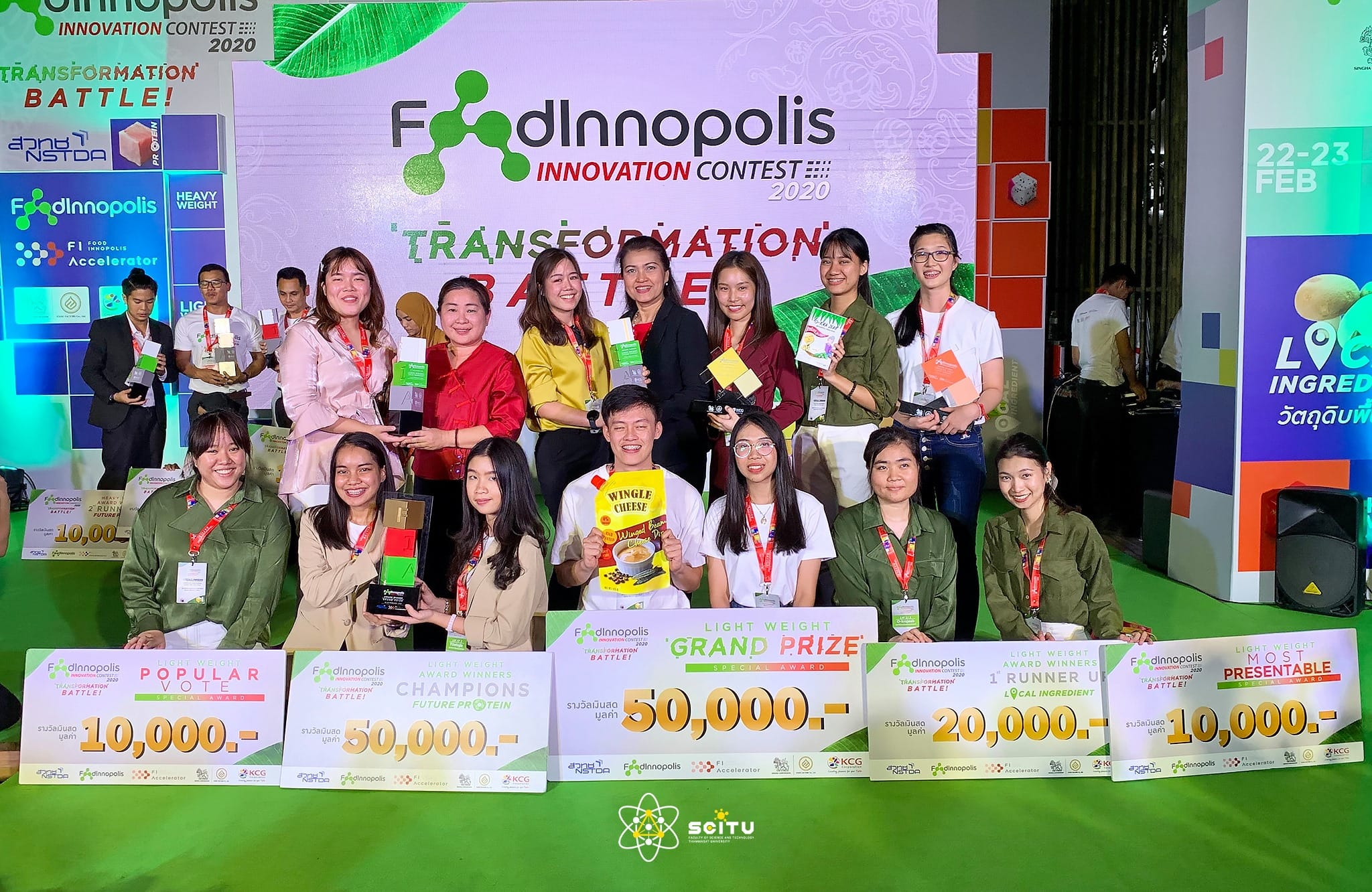 Reduce wastes from scraps
to increase agricultural value
Lobster seasoning… from lobster shells
Lobster scraps discarded from luxury restaurants fell into the hands of an assistant chef, who added value by creating premium-grade, high-calcium, and low-sodium seasoning containing astaxanthin, a red anti-oxidant which has anti-aging properties, that can be used to prepare a variety of meals such as by mixing with fried foods and sprinkling on white rice. The innovation is guaranteed by a gold medal award at the Seoul International Invention Fair 2019 (SIIF, 2019) in Seoul, South Korea, along with a patent, and it is ready for commercial production and distribution.
High-protein cheese dipping sauce made from winged beans…without cholesterol
Agricultural produce has become a source of protein of the future and a new option for people who don't eat meat. It has 0% cholesterol, and flavor modification and texture modification techniques have been used to make it taste similar to cheese and pleasant to eat. The innovation is guaranteed by three prizes such as the Grand Prize as representatives from Thailand studied work internationally and the first prize and popular vote prize from the Food Innopolis Innovation Contest 2020 in Thailand.
Instant pudding…from okra
This is an instant pudding that contains okra slime and comes in a powdered form with soymilk flavor, making it an upgrade of a local ingredient into an easy-to-eat and healthy snack. The dietary fiber and anti-oxidants in okra improve bowel movements, strengthen the body's cells and lower blood glucose levels. As a result, it is suitable for elderly people with bowel movement problems or problems with choking. Because the pudding is made in powdered form, it is convenient to carry. Accordingly, the innovation won two prizes, namely, the first-place prize and excellent presentation prize from the same stage as the high-protein cheese dipping sauce made from winged beans.
Research for Developing New Knowledge
The Faculty of Science and Technology researches scientific and technological knowledge and disseminates research and applies technologies to the extent of successful patent registrations, petty patent registrations and commercialization. The faculty has modern and up-to-standard research tools and equipment and possesses knowledge in a wide variety of areas, all of which can be integrated to create works that can actually be applied in solving social problems.
Work Achievement Statistics of the Faculty from 2015 to 2019
The Faculty of Science and Technology grew and developed in many areas, particularly in the development of the faculty's personnel, which has been highly successful. The faculty has human resources with expertise in many sciences and continuously produces research and publications. Over the past five years, the number of innovations with patent and petty patent registrations has been increasing in leaps and bounds with increasing collaborations and application of research findings in commercial purposes.
International Journal articles in SCOPUS/ISI – 63%

JOURNAL articles in TCI – 22%

INTERNATIONAL CONFERENCE PROCEEDINGS – 12%

CONFERENCE PROCEEDINGS – 3%
registered patents or petty patents
national and international awards
in research funding (million baht)
Our Achievements
for Life and Social Development
We are an important driving force behind continuously propelling Thai society forward with knowledge, research and innovations in line with the motto "I love Thammasat University because Thammasat University teaches me to love people."